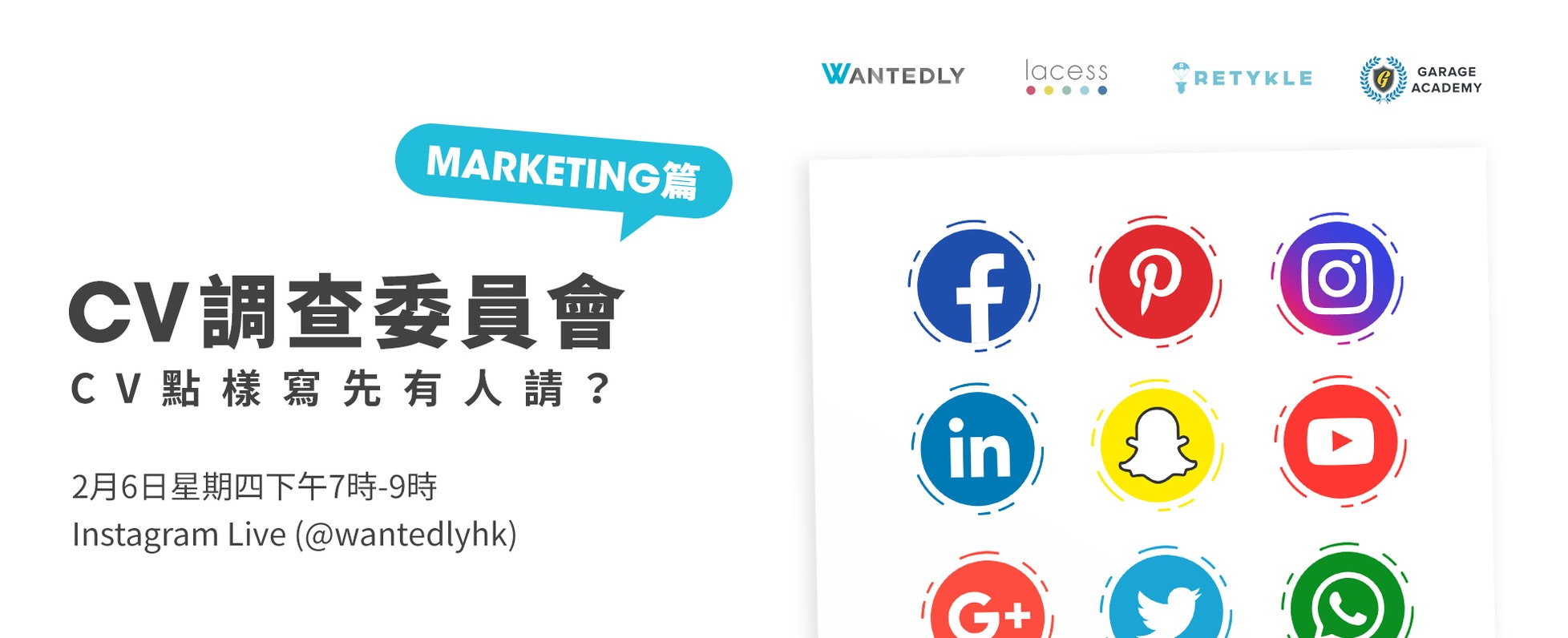 Meetup
06.Feb.2020
四
18:30 ~
at https://www.instagram.com/wantedlyhk/
I'm the Country Lead for Wantedly HK. I'm here to bring Wantedly's vision to Hong Kong: creating a world where work drives passion.

I'm Hong Kong/Canadian, with roots and identities in both cultures. I've worked in a variety of start-ups in Hong Kong in different sectors. Easy going, but alwa...

From Vogue to Bloomberg.

A girl who was fascinated by the glamour of luxury fashion empire yet was buried under countless spreadsheets and calculations. Afterall, it was just a not-so-glamorous numbers game. Don't get me wrong, I still love fashion. BUT, I decided to take a leap out of my comfor...

This is Daniel Ng from Hong Kong trying to live his life while not losing "bits" of his own.

I am Kamila. Although I am a new comer, I have organized different types
of activities, such as music festival, exhibition and big forum. In those
activities, I have learnt how to be responsible and be a good decision maker.
I can work independently and work under pressure.
有名你叫【CV調查委員會】,呢個系列嘅meetup就係要睇吓大家嘅CV究竟有咩問題,等大家新一年有個新開始!
委員會今次嘅調查對象係一班Marketer,無論你做小編又好、負責落Ad都好,都一定有手足喺你左近,大家一齊調查各自嘅CV,聽哂兩邊嘅意見之餘,仲可以喺兩位重量級speaker身上學嘢!
最緊要係咩呀!?
既然要幫大家,就一定要幫到盡,所以Wantedly係一蚊都唔會收!而大家要做嘅好簡單:報名、出現、學嘢、飲嘢、食嘢,大家話好唔好先?
到時會用到我哋個Facebook同Instagram㗎,不如follow咗先?
Facebook: https://www.facebook.com/WantedlyHK/
Instagram: https://www.instagram.com/WantedlyHK/
原本就諗住同大家見面吹吓水嘅,但為咗等大家唔使浪費口罩,所以今次嘅【CV調查委員會】係會透過Instagram Live進行嘅,既然係咁,你follow咗我哋個Instagram未呀?
(未follow嘅請去呢邊:https://www.instagram.com/wantedlyhk/)
流程(講重點算啦好嗎?)
1830-開Live!
1835-Speaker分享調查CV心得
1850-即場問答環節(有咩係個live度問就得㗎啦~)
1905-完!
Speaker簡介
Lacess founder - Natalie Chow // Retykle founder - Sarah Garner
Natalie同Sarah分別喺beauty 同luxury fashion industry有過10年嘅經驗,但同時間都各自決定跳出嚟搞startup,所以無論佢哋喺corporate又好、startup都好,都已經screen過無數嘅CV。如果你想知畀corporate同startup嘅CV有幾唔同,各自又需要啲咩,咁仲唔快啲加入【CV調查委員會】?
p.s. 而家就已經有問題想問?可以去呢度擺低喎:https://forms.gle/jthRjbtzQkm49TZp7
地點
https://www.instagram.com/wantedlyhk/
CV調查委員會 ── Marketing篇
06.Feb.2020
四
18:30 ~
at https://www.instagram.com/wantedlyhk/