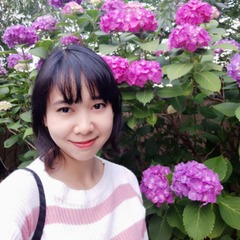 ナディア ( Nadia )
東京 | AB型 | INTJ | Travel for Food
Marketing & Content creator

Tokyo

於2020/03/11加入
註冊查看完整個人檔案
自我介紹
Nadia is the person in-charge of Marketing at JELLYFISH.Inc
She loves to travel, listen to oldies rock bands and KPOP. Previously hold a dream to become an idol but unfortunately she realized that she's not athletic enough to do the dance routine (lol).

Spent 6 years working as graphic designer somehow made her confident in her artistic ability, she has the talent to analyze people from psychological side and naturally approach them. Is a geek for psychological test such as MBTI and can spend hours talking about the human and culture related stuffs.

She can be contacted at nadia@jellyfish-g.co.jp in English, Japanese and Indonesian.
追求嘅目標
[Based in Tokyo || Love to explore || Constant need to expand her horizons & connection]

Born in the 90's, spent most stages of her life in Indonesia's notoriously congested capital: Jakarta. Managed to travel to almost all part of her country except the far east and is fortunate enough to have visited almost all part of South East Asia.

Graduated with Bachelor Degree in Design and Advertising in 2013, and since then steadily building her career as professional Graphic designer and Marketer at 2 Japanese companies in Jakarta. By 2018 starting to realize that she cannot ignore her lifelong dream to move to Japan.

Won a scholarship in 2018 and moved to Tokyo at the same time Japan started the new "Reiwa" era. Finished the 1 year advanced Japanese course at UNITAS Shinjuku and once again entering the workforce as Marketer and Content creator for JELLYFISH. Inc, a company with aim to support foreigners who wants to find employment in Japan. Right now her main project is handling MIXESS.JP a website specializing in recruiting global IT talents who aspire to build their career in Japan.

She realized that there are thousands of people out there with dreams and aspirations to build their life in Japan, just like her. The feeling of being able to connect and support those people are the source of motivations for her to go to work everyday.
工作經歷
Marketing & Content creator

Start to Work : 26 March 2020
Department : HR - Marketing

- Handling the company marketing and SNS related works.
- In-charge to manage the company's job listing site mixess.jp
- Creating content and strategy to expand the company's presence to the market.

2020-03 -

Head Designer & Marketing

【事業内容】
国際ペイメントブランドとして、各提携銀行への決済スキームの提供。および新規プロダクトの立ち上げ・導入支援。マーケティング施策の実行

【責任】
・戦略に基づいたブランドマーケティング、広告、SNS、PRデザイン、加盟店備品、広告全般のクリエイティブ制作。
・SNS・Webサイトの施策立案・運用管理。広告代理店の管理。
・優待加盟店の開発・管理。
・インドネシアの主要銀行とのマーケティング施策・告知実施に関する各種コミュニケーション。
・法的文書、Webサイトの翻訳対応(インドネシア語、英語、日本語)。

【ポイント】
・2年以上マーケティングスタッフとして、本部から与えたKPIを常に100%達成。
・戦略に基づいたデザインコンセプトとして、「Find Privileges with JCB」というキービジュアルを開発し、インドネシアにおけるJCBカードの認知率向上に貢献。
・全世界JCBグループとしてとして初めてInstagramの導入を実現。主担当として、広告う代理店の管理とマーケティングへの活用を推進。
・ 様々なキャンペーンのコンセプトやキービジュアルを開発 (ムスリム向け日本旅行のキャンペーン、ECショッピング祭りなど)
・日本留学以降は、アルバイトとしてJCBグループのクリエイティブデザインの作成をサポート。

2017-01 - 2019-10
Projects
2020-3 - 2020-12

2017-11 - 2019-10
擅長技能
0

Creative Strategy

0

Humor

0

Writing

0

Design
教育背景
Communication Design

2013-08
研習課程
ユニタス日本語学校東京学校

ビジネスレベルの日本語を勉強するため、この日本語学校に在籍しています。

2019-4 - 2020-6
語言
英文

母語

印尼文

母語

日文

流利

韓文

可溝通
資格認可
JLPT N2

2019-12

TOEFL iBT 97点 (TOEIC 800点)

2017-6
榮譽獎項
共立国際交流奨学財団主催「2019年度奨学候補生現地(ジャカルタ)選考会」優勝(2019年4月から2020年3月まで1年間)

2019

第2回共立国際交流奨学財団主催「日本語スピーチコンテスト」優勝(2015年10月)

2015

2014年ジャカルタCreative Fair Award優勝(2014年08月)

2014
我關注嘅內容
Workshop, Weekend Activity, Expertise Advice, side business, Recruiting, Networking, Career Opportunity