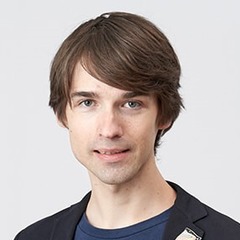 Aaron C. Bell
Trained as an astro-datascientist. Dreaming of accelerating research-for-public-impact through cloud computing and machine learning.
AI Solutions Engineer

Bunkyo-ku, Tokyo, Japan

於2016/05/17加入
註冊查看完整個人檔案
自我介紹
For my PhD I used statistics, machine learning, and massive astronomical image data to explore what our galaxy is made of.

Looking now towards our own planet and society, I want to use machine learning to help build more sustainable, efficient industries and communities.

My passion is connecting knowledge between natural sciences, engineering, and machine learning, and blurring the lines between industry and academia.
追求嘅目標
Curiosity led me to double-major in biology and physics. Finally, I ended up diving into astronomical data science during grad school, studying the molecules floating around in space that can eventually become planets, and even living things.


Because astronomy grad school didn't teach enough of the latest machine-learning techniques, I did an internship at Grid, Inc. during the last year of my Ph.D. program. This introduced me to the world of machine learning.

Now, my curiosity leans towards the human experience- infrastructure, healthcare, social and environmental stability- I want to use a combination data science, AI, and compassion to improve peoples lives, and the life of our planet at the same time.

Now at the NASA Frontier Development lab I'm finding I have a strong passion for science acceleration using machine learning, in general. I love working on a diverse range of scientific computing challenges, from infrastructure to astrobiology.
工作經歷
エンジニア 博士(天文学) ベルアーロン

AI Solutions Engineer

2019-03 -

Visiting Researcher

2018-04 - 2019-03

Researcher

Working in an extremely diverse team to leverage AI, the Google Cloud Platform, and scientific guidance to probe the edge astronomy and biology. My role in the team, as an astronomy PhD with experience machine learning, is as a conduit between the scientists and Ai engineers. My technical input during the program was valuable in developing a pipeline from varied extreme-life datasets to potential effects on exoplanetary atmosphere stability, leveraging cutting-edge machine learning techniques. The questions we hoped to answer were challenging but were poised to create a firm stepping stone in the 8-week intense science accelerator program that future researchers can pick up and run with. Alas 8-weeks was not enough to solve all the possibilities for life in the universe, but my team and our mentors continue working together remotely as Volunteer Fellows.

2018-06 - 2018-08

Intern in the Technology Solutions Group

2017-03 - 2017-09

Research student (研究生)

2012-10-03 - 2013-03-31

Summer Research Intern

2012-06-18 - 2012-07-29
Projects
Blind Component Decomposition of the Milky Way

This project is in collaboration with GRID, Inc. We are applying a variety of machine learning techniques to massive, all-sky astrophysical data sets. Our goal is to facilitate breakthroughs in big-astrophysical-data. This field suffers from two major limitations that we think machine learning can help with: 1) Heavy reliance on conventional models (which make very strong assumptions) 2) Too much data! We have more information coming in from satellites and telescopes than we are able to efficiently and thoroughly analyze.

2017-3 - 2017-5
連結
擅長技能
0

Network

0

Science acceleration

0

Astrobiology

0

Pandas

0

astropy

0

GCP

0

Algorithm

0

Analysis

0

Scientific computing

0

Scientific editing

0

International collaboration

0

Writing

0

Unix

0

Teaching

0

Teaching English

0

matplotlib

0

LaTeX

0

Keras

0

Tensorflow

0

PyTorch

0

Joomla

0

Teaching Science
研習課程
What it Means to be a Scientist in the 21st Century

This was a one-time seminar, which I led and organized. It took the format of an open discussion, between senior faculty members, junior professors, and students. A led the 2-hour long discussion about what the role of a researcher would look like in the next 100 years. It was a lively conversation between experienced researchers and students just entering the field. More than that, it was a lot of fun for my, as just an undergrad, to be able to stimulate such a discussion.

2011-10 - 2011-10
資格認可
Coursera-Stanford: Machine Learning Course

2017-4

JLPT N3 (日本語能力試験3級)

2017-1

Udemy "Intro to Data Science" Course

2017-1

JLPT N5 (日本語能力試験5級)

2015-7
榮譽獎項
Chambliss Astronomy Award for Science Communication

2012

Kentucky Ambassador

2007

NVIDIA GPU Grant Recipient

2018
出版作品
我關注嘅內容
Recruiting, side business, Visiting Alumni, Career Opportunity, Expertise Advice, Networking, Weekend Activity, Workshop, Visiting Office