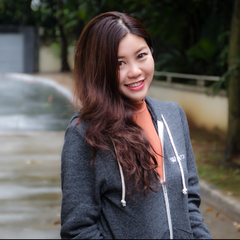 Jiaqi Beh
Dreams demand hustle.
Marketing Lead

Singapore

於2017/02/08加入
註冊查看完整個人檔案
自我介紹
An experienced growth marketer with e-commerce startup background, and over 6 years of proven track records in creating impactful campaigns to scale and build businesses from ground up.

Passionate about driving online and offline user growth acquisition and helping like-minded talents and companies meet at Wantedly. Curious? Come speak to us and we'll be happy to catch up over a fun game of Ping pong!
追求嘅目標
My passion lies in entrepreneurship and technology, with the goal of helping businesses deliver purposeful impact to the people they serve.
工作經歷
Marketing Lead

Wantedly is a platform where people and companies meet based on passion and values, rather than money or benefits. We are currently Japan's largest business networking platform, with more than 1-mil monthly active users and brands like UBER, Airbnb and Buzzfeed acquiring talent via our platform. Spearheading user growth acquisition and all things marketing.

Successfully led local market penetration by driving brand awareness and user acquisition through strategic channel management, achieving over 50,000 users in 1.5 years

Led a team to launch online and offline marketing campaigns from end-to-end, including strategy planning, media buying, assets creation, and campaign management
Defined brand positioning by initiating and establishing a strategic network of key brand partners for synergistic growth

Event curation and management - Managed successful execution of over 40 events of various scales

2017-04 -

Social Media Account Manager

Manages Samsung Singapore's social media channels, champions social media related projects and Samsung Singapore's product launches.

Manages Samsung Singapore's always-on social media advertising budget with the support of the appointed media buying agency for various product media campaigns.

Works with Account Director to strategize and implement social marketing activities that maximize online consumer engagement to drive the growth of Samsung's reach in the social media sphere.

Event management and management of celebrities/KOL outreach for social activations

Work with Social Analyst to create analytics driven weekly and monthly listening/performance reports

2016-08 - 2017-04

Founder

Founded in 2010, the online streetwear label has gone from selling globally sourced designs to manufacturing its own unique collections catering to the savvy, fashion-conscious woman. Key highlights include launching a sell-out fashion show in collaboration with popular nightspot, Attica, and expanding into a brick-and-mortar pop up store at Orchard which attracted thousands of shoppers and brought in over 6 digits figure revenues during its year long tenancy.

The 8 year old brand has been featured in ChannelNewsAsia, HOT91.3FM, The New Paper, and multiple online media platforms.

- Built the brand from the ground up, scaling the team from 0 to 5 for strategic planning, marketing and business development initiatives for branding, acquisition, and retention

Diversified into omnichannel retailing through successful launch of physical flagship store to bring in new revenue streams

Kickstarted partnerships with over 300 merchants and influencers to maximise brand exposure

Capitalized on strong brand goodwill to attain numerous offers for a successful acquisition

2010-01 - 2016-07
資格認可
HubSpot Inbound Certification

2019-3
我關注嘅內容
Visiting Office, Networking, Weekend Activity, Workshop
推薦
a pleasant lady of good qualities. Helpful, cheerful, elegant, goal-getter and hardworking.

Jiaqi is a creative and reliable individual to work with. As a colleague, she is hardworking and will always go the extra mile to get work done!

I had the pleasure of working with Jiaqi at Wantedly SG. She has proven to be an efficient and a great team player! She is very optimistic and achieves all her goals well before the deadline.