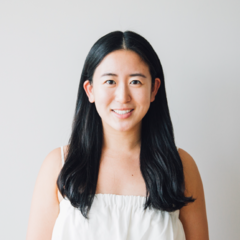 Elisa Park
Never stop learning
註冊查看完整個人檔案
自我介紹
I am currently with Wantedly, a social hiring platform that emphasizes the people aspect of working within and building a company.

Previously, I worked in the fashion industry in New York City, collaborating with companies such as Elle, Porter, Vogue Hommes, H&M, UGG, Lindsey Adelman, The Standard Hotels and Forever 21. I am a graduate of the University of Virginia with a background in Sociology, Statistics, and American Studies!

My main interests lie in marketing and help influencing millions of people by disrupting the notions of "the everyday." I love meeting people and constantly learning and doing.
追求嘅目標
I loved the intersectional environment from my experience in the fashion industry of multiple departments (with people from vastly different experiences) working together to create the best possible solution or idea for their clients. These decisions that came from a small team affected millions of people, and I hope to contribute to something that affects millions of people to help make their lives better in many ways!
Projects
Singapore Fashion Runway

2017 Singapore Fashion Runway "Fashion For A Social Cause" Show

2017-8 - 2017-8
教育背景
Double Major: Sociology and American Studies (Focus on popular and visual culture) | Minor: Statistics

Brief Overview of Courses:
Social Statistics
Sociology Research Workshop
Stat Computing with SAS and R
Design and Analysis of Sample Surveys
Topics in Applied Data Science (Networks and Society)
Business, Ethics, and Society
Sociology of Consumption
Leadership Across Disciplines

Extracurricular/Volunteer Activities:
Charlottesville University Symphony Orchestra
• Clarinet

Korean Catholic Student Ministry (KCSM) | Leader of Praise Team and Pianist (2013-Present)
• Lead weekly meetings for the praise team
• Organize the music and instrumentation of the weekly songs sung at meetings
• Dictate weekly program for ministry meetings

TOTEM | Lead Social Media Marketing Strategy (February 2016-June 2016)
• Create and execute marketing strategy for the app (non-profit organization connecting local charities and the community)
• Direct creative content application for Instagram marketing (@totemfgf)

2017-05

Ranked #8 academically out of 600 students
Ranked #1 Tennis Singles from 2009-2017
First Chair Clarinet for Wind Ensemble 2010-2013
Clarinet for TRYPO (Three Rivers Young People's Orchestra)
Girl Scouts Gold Award

2013-05